Gain rich, real-time business intelligence with the leading physical therapy EMR software.
Want to grow your practice faster? Stop wasting time and money—and start making better business decisions with WebPT Analytics.
See our analytics software live
Get a pulse on your clinic's performance in seconds.
Our library of easy-to-read charts and graphs allows you to gain valuable business insight in a single glance.
Check patient arrival rates and identify trends over time.

Compare new patient case and discharge statistics to better understand how well you're moving patients through the course of care.

Drill down into data for individual therapists and clinic locations.
Optimize clinic operations and revenue potential.
Reduce cancellations and no-shows: Use patient arrival rate data to determine whether you need to adjust your patient scheduling and appointment reminder protocol.
Find out which payers are the most profitable: With our payer-focused reports, you can determine which insurances send you the most patients and pay the highest rates—and adjust your contracting strategy accordingly.
Identify your top-performing providers and clinics: See which therapists and clinic locations are creating the newest cases and finalizing the most notes. Then, apply that knowledge to future marketing, hiring, and budgeting decisions.
Plus, as a WebPT Member, you get:
Anywhere, anytime system access from any Internet-enabled device
Month-to-month pricing with no contracts
Free, unlimited customer service and support
Custom onboarding and training
Seamless data migration
Interactive home exercise program with a robust multimedia library and a patient-facing mobile app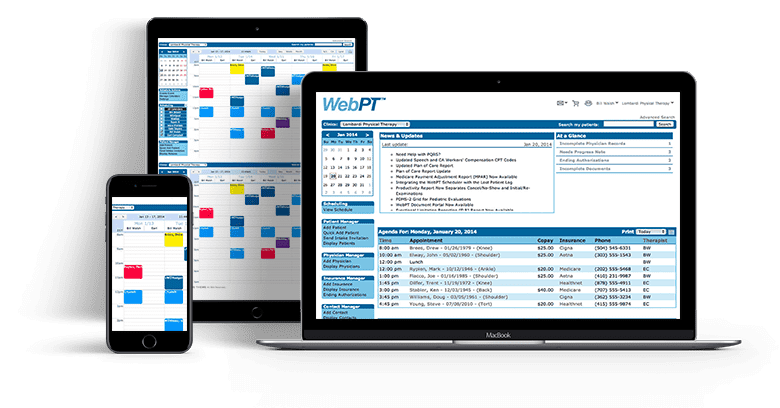 "It is very easy to use and minimizes time spent documenting. It seamlessly blends documenting and billing and helps to minimize any errors."
Chris Dirkx, PT, DPT
Physical Therapist
"I am loving Analytics. It's so easy to gather important data regarding cancellations, visits, open notes, and more. It is invaluable to us."
Samir Sharma, PT, DPT
Founder and Clinic Owner
Activa Physical Therapy
"WebPT makes documentation fast and easy. They are constantly updating Medicare and Medicaid requirements, and the average daily note takes only a few minutes to complete."
Brad McMahon, MPT
Physical Therapist
Peak Performance Physical Therapy
MEMBER RETENTION RATE
99%
CLINICS USING WEBPT
15,000+