 Let's chat




about your clinic

experience.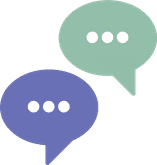 So you're looking to improve your clinic's patient experience. Great! You probably know this, but every patient interaction matters—a lot.
The secret to keeping pace with patient expectations in 2022, is to prioritize convenience and communication. This means leveraging patient-centered tech tools such as:

Text Reminders

Between Appointment Check-Ins

Digital HEP

Digital Intake

Mobile Payments



You'll have a lot of decisions ahead of you about how to build the perfect tech stack. Why not keep it all on one easy-to-use platform. With WebPT, you can create an EMR platform that works for you (and your patients).
About WebPT
WebPT is the leading rehab therapy platform for patient and practice management services. WebPT's product suite provides a robust end-to-end solution covering the entire rehab therapy business cycle, including patient engagement, documentation solutions to deliver quality, evidence-based care, and billing and Revenue Cycle Management (RCM) services. With a 99% retention rate and an uptime rate in excess of 99.9% across its entire platform, WebPT is the most-trusted and most-reliable solution in the industry, regardless of practice setting, specialty or size. WebPT's growth has earned it a spot on the Inc. 5000 list of the nation's fastest-growing companies nine years in a row.
To learn more visit: www.webpt.com