Get new patients. Keep current ones. Drive revenue.
Download this comprehensive guide to adding new revenue streams to your practice.
We don't have to tell you that today's physical therapy market is competitive. Not only must you contend with dwindling reimbursements and major payment cuts (e.g., Medicare's 8% decrease on all PT services), but patients also have more choices than ever before for addressing their health and wellness concerns.

It's time for PTs to get a piece of the wellness pie.

How is this possible? By diversifying your service portfolio with health and wellness offerings that go beyond the traditional rehab therapy scope. Of course, adding cash-based services to your clinic's menu is a big step, but you don't have to make that transition on your own.

There's a better way to explore the benefits of cash-based service offerings in your unique market—and we'll teach you all about it in this free e-book. Fill out the form, and we'll send you a free copy of our guide to adding cash-pay services to your PT practice.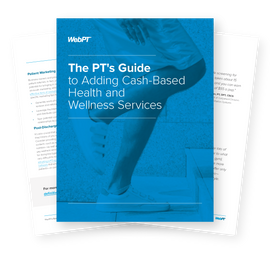 By submitting this form, you are opting in to receive resources from WebPT. Check out our privacy policy for the full story on how we protect and manage your data.