Maximize profits, combat dwindling reimbursements, and expand clinical reach.

Download your free guide to starting a cash-based PT practice.
More and more PTs are switching to cash-pay practice models every day. The benefits often outweigh the pitfalls—including the top advantage of better pay and greater work flexibility. But, if you're venturing into cash-based care for the first time and you don't know where to start, the process can feel overwhelming. How can you fill up your patient schedule? How do you ensure your clinic is profitable? We answer all of these questions in addition to providing a step-by-step guide on how to get started, with information like:
The pros and cons of operating a cash-based practice;
Tips for conducting market research;
An overview of cash-pay models;
A guide to payer relationships;
Pricing suggestions;
Information about navigating compliance and legal concerns; and
Ideas for maximizing your cash-pay marketing.
Download this free guide for comprehensive, easy-to-digest strategies for opening your own cash-based practice.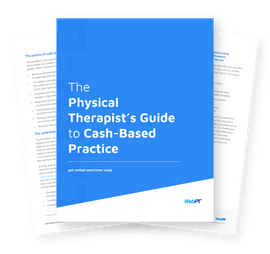 By submitting this form, you are opting in to receive resources from WebPT. Check out our privacy policy for the full story on how we protect and manage your data.