Make sure every patient who needs rehab therapy can get it—even when treatment can't happen in person.

Download your free, comprehensive guide to providing rehab therapy telehealth.
Even as the world reopens following the COVID-19 outbreak, the threat of infection remains—and for some patients, that threat is enough to keep them out of your clinic. Don't let distance prevent you from providing patients with crucial rehab therapy care. Download our guide to practicing rehab therapy telehealth, and your team will be up and running with telehealth in no time.

This free, comprehensive guide covers:
Selecting a telehealth platform;
Deciding with telehealth services to offer;
Adjusting clinic processes to accommodate telehealth; and
Marketing and billing for your new telehealth services.
Telehealth is new and unfamiliar for many PTs, OTs, and SLPs—but that doesn't mean it has to be difficult. Plus, there's a good chance telehealth is here for the long haul—and it won't be long before patients demand it as an option.

Make sure you can always meet your patients where they are. Fill out the form, and get your free copy of The Rehab Therapist's Guide to Practicing Telehealth today.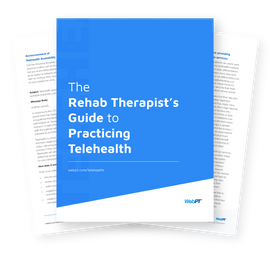 By submitting this form, you are opting in to receive resources from WebPT. Check out our privacy policy for the full story on how we protect and manage your data.