Thinking about opening a PT practice? Make sure your bases are covered.
Download our free guide to starting a private
physical therapy practice.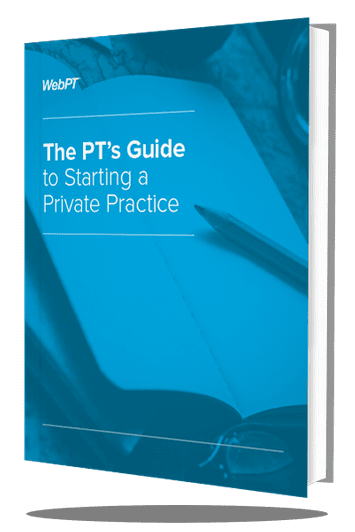 Get the Guide
By submitting this form, you are opting in to receive resources from WebPT. Check out our privacy policy for the full story on how we protect and manage your data.
For many physical therapists, opening a private practice seems like a pipe dream. After all, with shrinking reimbursements, legal red tape, and the challenge of obtaining capital, the road to practice ownership can be a bit rocky. But with the right resources—and a little advice from the pros—this dream can be a reality. That's why we teamed up with a handful of successful private practice owners who know a thing or two about achieving business liftoff, amassed all of their real-world knowledge, and organized it into one comprehensive e-book.
So, before you flip on that open sign and treat your first patient, make sure you've got the right resource in hand. Fill out the form above to download The PT's Guide to Starting a Private Practice.