Stand out from your competition and get noticed online.
Download our free definitive guide to marketing your rehab therapy practice.
There's a lot of uncertainty in health care right now, which makes it even more important for rehab therapists to remain competitive business-wise. But, venturing into the brave new world of digital marketing can be an overwhelming experience—especially for busy clinic owners and those who are new to the world of private practice.

As our readers know, the WebPT Blog is a killer resource for helping you market your rehab therapy practice, but with so much information available, it's tough to know where to start. That's why we've amassed everything we know about private practice rehab therapy marketing—from driving more traffic to your clinic website to writing a newsletter that people will actually read—and distilled it all down into this comprehensive e-book.

The power to elevate your practice's brand is just one click away—and it's totally free. Fill out the form above to download Modern Marketing Decoded: A Guide for Rehab Therapists.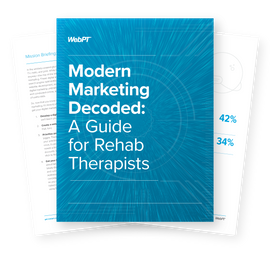 By submitting this form, you are opting in to receive resources from WebPT. Check out our privacy policy for the full story on how we protect and manage your data.