The PT Patient
Experience Report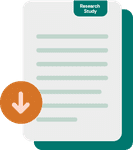 Get it Now
Discover the drivers of patient-perceived PT success with exclusive new research from the patent's point of view.
By submitting this form, you are opting in to receive resources from WebPT. Check out our privacy policy for the full story on how we protect and manage your data.
This exclusive research will help you understand how patient expectations, preferences, and clinic interactions influence their perceptions of success, as well as the likelihood of them referring others to PT or even returning to it themselves (without a referral) in the future.

We unearthed key findings and opportunities in four critical areas of focus.

1. Attracting more patients
2. Simplifying the path to care
3. Retaining and motivating patients
4. Driving patient-perceived success

The best part? This research is free of charge. Simply fill out the form above, kick back, and discover the unexpected drivers of PT patient success.
About WebPT
WebPT is the leading rehab therapy platform for patient and practice management services. WebPT's product suite provides a robust end-to-end solution covering the entire rehab therapy business cycle, including patient engagement, documentation solutions to deliver quality, evidence-based care, and billing and Revenue Cycle Management (RCM) services. With a 99% retention rate and an uptime rate in excess of 99.9% across its entire platform, WebPT is the most-trusted and most-reliable solution in the industry, regardless of practice setting, specialty or size. WebPT's growth has earned it a spot on the Inc. 5000 list of the nation's fastest-growing companies nine years in a row.
To learn more visit: www.webpt.com
©2023 WebPT All Rights Reserved