If knowledge is power, then this is an arsenal.

Download your free, comprehensive guide to the 2023 MIPS program.
Pinpointing the pros and cons of MIPS participation—let alone evaluating them—is an ordeal. It's all too easy to get swept up in a deluge of convoluted MIPS information, making it tough to figure out whether MIPS participation makes sense for you or your practice. That's where we come in. Download this free guide and get all your MIPS questions answered. We're all about facts, and we serve 'em up in the most straightforward way possible.
Are you ready to learn everything you need to know to conquer MIPS in 2023? Get your free guide right here, right now.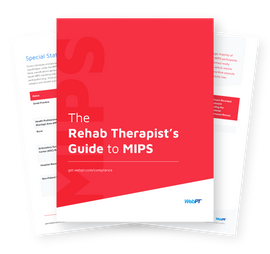 By submitting this form, you are opting in to receive resources from WebPT. Check out our privacy policy for the full story on how we protect and manage your data.