Get ahead of the trends, challenges, and opportunities shaping rehab therapy.

Download your free copy of the 2022 State of Rehab Therapy report.
We asked more than 6,600 rehab therapy professionals across a wide range of settings, specialties, and geographic regions for their thoughts on the key trends impacting the industry. The result? The single most comprehensive analysis on the state of rehab therapy.

This report features insights on everything from demographics and financial metrics to employee retention and emerging technology trends. Plus, we've tapped dozens of leading industry experts to weigh in on what they think the data is showing.

Download the free report and get the knowledge required to move your practice—and our industry—forward.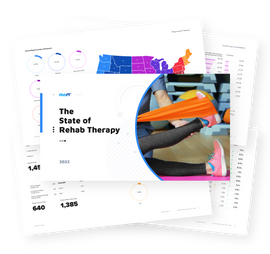 By submitting this form, you are opting in to receive resources from WebPT. Check out our privacy policy for the full story on how we protect and manage your data.